Last night, I got to present a really great new program at the town hall meeting at LISA13. It's called the LOPSA Professional Recognition Program, or LPR, and there's nothing like it in the world.
Here's the deal: You and I are both system administrators, and I'm willing to bet you're a relatively decent one, at that. One of the reasons we're good at being administrators is because we try to improve ourselves, so we take efforts to learn and we're interested in the community around us.
But we both probably know some people who have a job similar to ours, but who don't take the effort to get better at it, and who just basically show up to punch a time clock. Because we're IT admins, we know the difference – we can tell the ones who care from the ones who don't. But if you aren't in the industry, it's much harder to tell.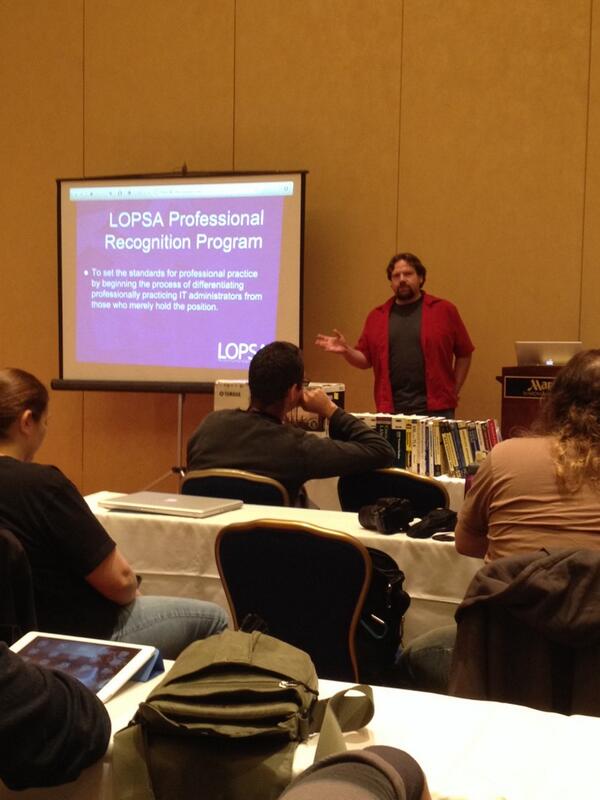 (photo by LOPSA member Will Dennis)
That's why LOPSA is launching the LPR program. We're drawing the line in the sand by establishing the first set of professional standards of practice in the industry. Here is the set of requirements for 2014:
Must agree to abide by the LOPSA Code of Ethics
Must have at least 640 hours of professional practice in 2013
Must be a member in good standing of LOPSA
Must either:

Have 20 hours of structured training (such a a tutorial, course, class, or otherwise)
or, as an autodidact, write a short essay on what the individual has done over the previous year to learn and improve themselves, and list the online communities that they're involved in
We are aware that there are many ways that individuals work to improve themselves, and we're covering all of the bases. Not everyone can come to conferences and take part in training, so we created the "autodidact" tract, which allows for more people to take part.
Because our industry changes rapidly, this program will need to change along with it. For that reason, each year, the LPR committee will re-evaluate the standards and examine how the industry has changed, and will take into account changes in the requirements to practice in other professional fields, as well.
The cost to apply is $20, although because this is the first launch, we're cutting that in half, to $10. This will get you a nice certificate to hang at your desk or in your office.
This program is going to be amazing. I'm excited to see it grow, and in a couple of years, it's going to really gain traction and cause a change in our industry. I'm hapy to be a part of it, and I hope you will be too.
Read more about it at the LPR page, and sign up!